Vision 2.0
Vision 2.0 Hand-Guided Quilting System
Whether your quilt is for a show entry, your favorite customer, or your grandchild's crib, we know you want the quilting to shine. Your machine is the key to your success and each of your quilts deserve only the best. You can trust your Gammill to give you the highest quality stitching available. You can achieve your dreams of award-winning quilts, satisfied customers and, of course, happy grandchildren.
Vision 2.0 System
Each Vision 2.0 comes with the tools you need to be a successful quilter. System includes:
Durable cast aluminum and steel machine head
All-steel, industrial grade table
Gammill Breeze Track™, a state-of-the-art wheel and track system that allows you to guide the machine with only a light touch
Vision 2.0 Included Features
Electronically controlled horizontal and vertical channel locks
Front or rear laser
Rear handles
On-board bobbin winder
Bobbin thread meter
Time clock
Stitch counter
LED light fixture with black light
Thread break sensor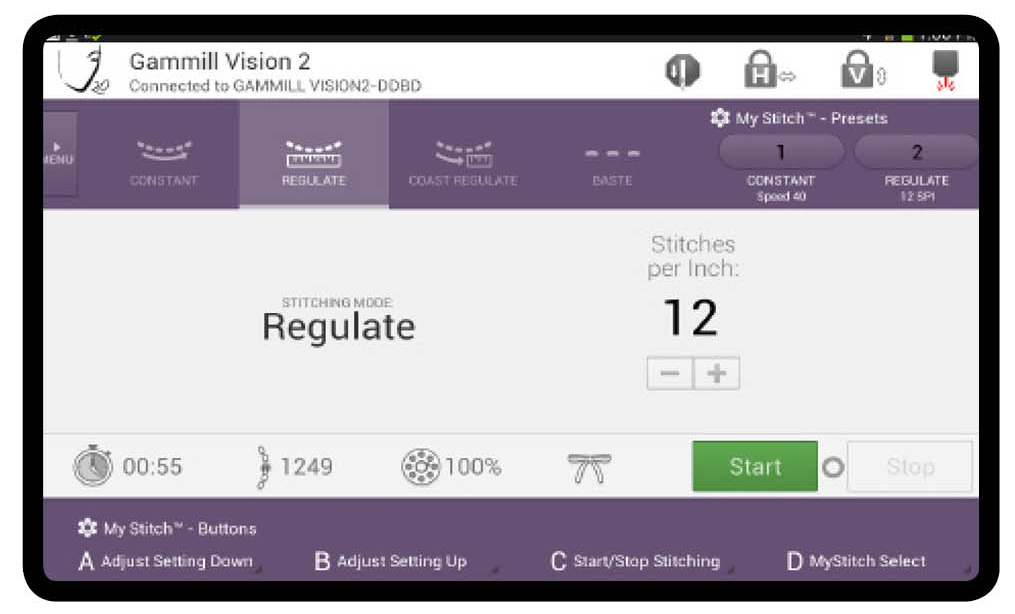 Four Stitching Modes
Let the machine regulate your stitch length or keep your machine at a constant speed. The Vision 2.0 includes four standard stitching modes:
Stitch Regulate:

 

Control stitch length. Set the stitch length and let the machine do the work for you.
Coast Regulate:

 

Control stitch length during faster movement. However, during fine detailed work, the machine automatically switches to constant speed to let you complete micro work with smaller stitches without stopping to change settings.

 

Click here

 

for a video demonstration. 
Constant Speed:

 

Control stitch length on your own. The machine stitches at a steady speed that you set so your movement of the head controls your stitch length.
Baste:

 

Take long stitches to temporarily hold the layers of the quilt together for stabilizing. This allows you to quickly secure an area or stabilize an entire quilt.
Customization
The Vision 2.0 handle bars feature four buttons, which you can program with a touch of the screen to have instant access to your favorite modes. Switch modes without having to pause your quilting to go back to the screen. Save your favorite stitch length and speed for easy access with two My Stitch™ presets. Click here for a video demonstration. 
Warranty
All new Gammill machines come with a lifetime mechanical warranty against defective materials and/or workmanship, one-year tablet warranty, three-year electrical parts warranty, and two-year in-shop labor warranty. The Gammill warranty also covers commercial use of the machines.
Computerization
The Elevate, Gammill's tablet-based computerization can be added to a Vision 2.0. Read more here. 
Pricing Options
MSRP in US Dollars
Pricing does not include freight, delivery, installation/set-up and training
VISION 2.0 18-8 with Home-Pro Table
18" throat space, 13.25" quilting area
$14,999
VISION 2.0 22-10 with Pivotal Access Table
22" throat space, 16.5" quilting area
$19,999
VISION 2.0 26-10 with Pivotal Access Table
26" throat space, 20" quilting area
$23,999
VISION 2.0 30-12 with Pivotal Access Table
30" throat space, 23.4" quilting area
$27,999
Featured image: Quilt by Karen Marchetti